Tips from the market
How do B&B owners deal with rising energy prices, and what energy-saving measures have they already taken? To gain insight into the market, we presented this question to B&B owners on our social media channels. This resulted in many practical tips, some of which we would like to share with you. Perhaps you could also apply these in your own accommodation:
Heating that the owner can turn down remotely if guests forget to do this themselves when they are out during the day | De Koesfabriek

An A4 sign requesting the guest to be economical with the gas and electricity during this time | Hofstede Naederhuyse

Renovation of a monumental building, installing double glazing, solar panels, floor insulation, insulated walls, pellet stoves and sensor lamps | B&B De Stadssingel

Installing solar panels, a heat pump and infrared heating in the bathroom | Hidden Pearl 

Disconnecting all the plugs when the guest leaves to prevent power leakage (refrigerator, TV etc.) | B&B De Graaf van Campen
General energy-saving measures
In addition to the tips from B&B owners, there are also many general tips that you can use to reduce your energy bill and make your B&B more sustainable. That starts with good insulation. Every building loses most heat through the roof, walls, windows and floor, so it pays to insulate your accommodation better. That way, your guests stay comfortable, and you emit less CO2 at the same time. You can do the insulation yourself and/or leave it to a specialist. Think of roof insulation, floor insulation, cavity wall insulation and HR++ and triple glazing.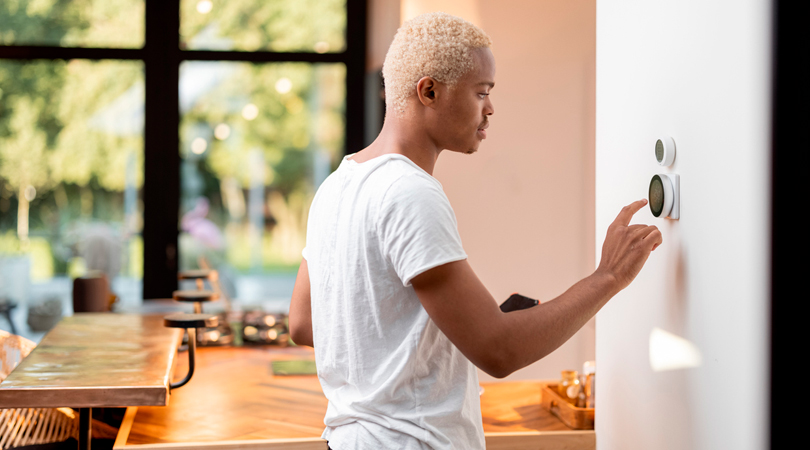 More sustainable heating sources
The prices of natural gas are rising, making sustainable alternatives and smart solutions increasingly interesting. Solar panels, heat pumps, infrared panels and smart thermostats are becoming popular. It is advisable to check in advance with the (local) government whether you are eligible for certain subsidies and/or allowances. You can also save a lot of money on various fronts with the following tips:
Tips to save on heating
Set the thermostat one or more degrees lower

Turn the thermostat low at night

Leave the thermostat low if there are no guests during the day

Close the curtains at night

Stick insulating window film on the windows

Lower the temperature of your central heating boiler, for example, to 65 degrees

Place radiator foil between the wall and the radiator

Seal seams and cracks with draft strips or excluder brushes

Continue to ventilate sufficiently, e.g. ventilation grilles
Tips to save hot water
Insulate heating pipes under the floor or in the attic

Install water-saving shower heads

Put a water-saving nozzle on taps

Place thermostatic taps in showers and kitchen(s)
Tips to save on lighting
Take advantage of natural light and use light colours in the interior

Use LED bulbs

Install dimmer switches

Reduce the amount of decorative lighting
Tips to save on consumption from electrical appliances
Use electrical appliances as efficiently as possible. For example, try to avoid running washing machines half-loading. A full refrigerator uses less energy than a half-filled refrigerator.

Connect (standby) devices to a power strip with a switch. Switch them off when the devices in question are not in use.
More tips
Do you have any good tips that you would like to share with other B&B owners? Leave a comment below this article!
Share this article: