Change your reservation settings by following 4 easy steps
Go to the Bedandbreakfast Innkeeper Service to specify the last minute settings for your B&B. Follow these four steps to prevent guests from booking last minute stays at your accommodation.
Step 1
Go to the 'Reservation settings' page in the Innkeeper Service or click on the below button.
Step 2
Specify your cut-off time for receiving reservations. You can choose from four cut-off times:
On check-in day: you allow reservations until a specific time at the check-in date
1 day prior to check-in: you allow reservations until the day before check-in
2 days prior to check-in: you allow reservations until two days before check-in
No restriction: you allow reservations at any time
Step 3
Choose the cut-off time by which you want to receive reservations. This time will be linked to the cut-off time you chose in Step 2.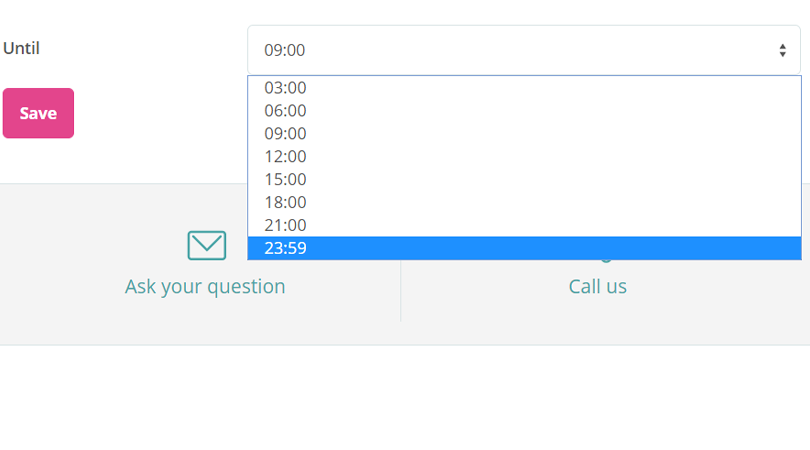 Step 4
Click on 'Save'. You've successfully changed your last minute settings! As of now, guests cannot book your accommodation after the specified cut-off time.
Function of setting during reservation process
Example: you've specified a reservation cut-off time of 12:00 on the day of check-in. Yet, a guest may try to book via the reservation form just before 12:00. If the form is completed and sent after 12:00, the guest will be notified that the room(s) is/are not available. You are therefore assured of not getting any last minute reservations via Bedandbreakfast.eu.
Findability
The findability of your accommodation will also change on the basis of this setting. When B&B searches are done after the reservation cut-off time set by you, your B&B will not appear in the search results. Guests will also not be able to select the period in question in the calendar on your B&B presentation page.
Questions
If you have further questions about last minute settings or need assistance, please don't hesitate to contact us. We're happy to help!
Also interesting:
Share this article: