London – Home is where the heart is
London stands tall as one of the world's best loved cities and is the perfect place for a romantic getaway!  Whether you're holding hands in a black cab or sitting cheek-to-cheek in a red double-decker bus, you'll always catch a glimpse of London's hustle bustle and its world-famous landmarks. Romantics can also walk through blissfully peaceful parks before catching a show and choose from thousands of restaurants, bars and clubs. There is no place on earth quite like London so remember for your next romantic getaway – there's no place like home. Cozy up in London at some of the world's best B&Bs.
All aboard the love boat in Venice
Venice is our top location when it comes to a romantic getaway!  Get carried away in a traditional gondola through beautiful Venetian canals while taking in this city's rich history and architecture. Listen to the hypnotizing echo of your gondolier's voice while passing under the magical Ponto (bridge) di Rialto – he may even give you a song or two including 'O sole Mio'! Walk hand in hand through across the Piazza San Marco and share the culinary delights of Venice together. For the ultimate romantic getaway experience, choose a uniquely Venetian B&B.
Paris, Je t'aime!
Seal it with a kiss under the Eifel Tower in Paris and lose yourself in the romance of this beautiful city.  Take a boat ride or stroll along the banks of the River Seine and see where Quasimodo fell in love with Esmeralda at Notre Dame.   Wander hand in hand down the famous Champs Elysée or climb the 300 steps to reach Sacré Coeur for breathtaking views.   A romantic getaway in Paris would be incomplete without a visit to Montmartre's famous 'Wall of Love', where hundreds of enameled lava tiles ​​say 'I love you' in 250 languages. Fall in love in a romantic Parisian Bed and Breakfast.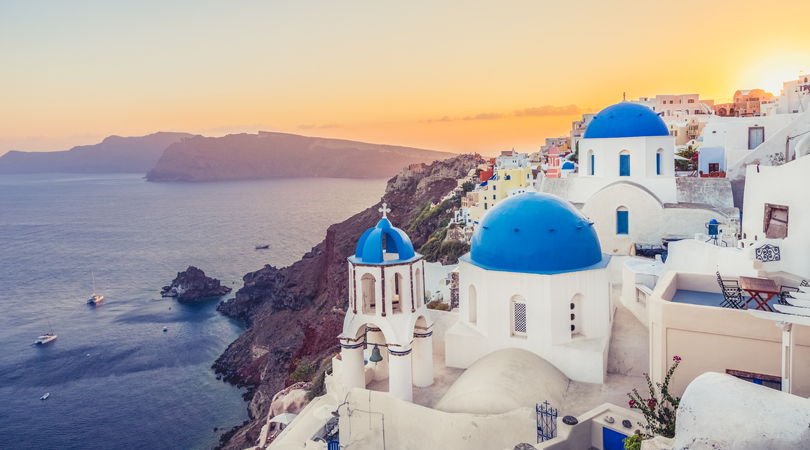 Sunset Romance in Santorini!
Santorini is one of the most romantic islands in Europe. Love birds will fall head over heels with its white houses and famous blue-domed chapels scattered over its volcanic, cratered landscape.  Visit Santorini's unique Red Beach and meander through enchanting harbors where traditional fishing boats bring in the island's best fish specialties.  Finish off the perfect romantic getaway by watching beautiful sunsets in Fira or Oia. See the sun rise and set with your soulmate from an authentic B&B in Santorini.
Seville where Passion and Lovers Meet
Seville oozes romance and passion with its historical Santa Cruz district and Andalusian Moorish spirit spilling through its streets, patios and court yards. Embark on a boat trip through the city's canals and see the beautifully decorated ceramic tiles visible everywhere on the Plaza de España. Your romantic getaway heats up when the cooler evenings set in with atmospheric tapas bars and the seduction of flamenco dancing. Put the passion back in your life by booking an exceptional B&B in Seville.
Get Love Locked in Dubrovnik
You may be surprised to see it on our romantic getaway list, but Dubrovnik, the Pearl of the Adriatic Sea, is sure to capture your heart with its beautifully preserved city centre that ranks on the Unesco World Heritage listing. Wander hand in hand through romantic streets brimming with Gothic, Renaissance and Baroque churches, monasteries, palaces and fountains. The ultimate show of devotion can be seen at the 'Love Lock Wall', overlooking the Adriatic Sea, where lovers engrave their sweethearts' names on padlocks and fix them to the wall for all to see. Lock down your love in a beautiful Bed and Breakfast in Dubrovnik.
Bed and Breakfast in Dubrovnik
Gimme gimme gimme Romantic Stockholm
Home to Abba, one of the world's most successful pop groups ever, Stockholm's beautiful location firmly positions it as a perfect romantic getaway destination. The city lies where the freshwater Lake Mälaren — Sweden's third largest lake — flows out into the Baltic Sea. The city connects its 14 islands with bridges and is annually recognized as one of the most livable cities in the world.  This is due to unbeatable Swedish hospitality, stylish shopping areas and sumptuous restaurants.  Dance the night away in trendy bars and nightclubs. Whisk your loved one away to the place to be in one of Stockholm's remarkable B&B's.
Prague, the Golden City of Love
With its almost surreal film set back drop, it's no surprise that Prague has become one of the world's most loved cities for romantic getaways. Beautifully located on the Vltava River where the famous Charles Bridge connects the old town with Malá Strana, Prague obtained its Golden City title thanks to its famous rooftops featuring at least 100 golden spires. Take part in your own romantic movie by visiting Prague Castle, strolling around the 'Old Town Square' or by taking a romantic boat trip on the river.  Feel like movie stars by staying in one of Prague's bohemian B&Bs.
Share this Article: